Covering Field Exploration From Prospect to Development

We offer both internal and open enrollment prospect and play assessment courses addressing prospect risk analysis, conventional play-based exploration, and unconventional resource play assessment and valuation. In all of our curricula, we align probability and uncertainty concepts to the petroleum system and then make the critical linkage to business risk, generating a consistent, systematic, and understandable assessment.
All courses feature abundant exercises to reinforce concepts taught, often mimicking actual investments in oil and gas ventures.
Probabilistic Risk and Resource Assessment Software

Our user-friendly software tools, applicable to conventional and unconventional evaluation, use the methods and processes we teach to address:
Prospect Definition
Play Definition
Common Risk Segment Mapping
Unconventional Resource Valuation
CO2 Sequestration/CCS
Seismic Amplitude Analysis
Portfolio Aggregation
Performance Tracking
Consultation to Achieve Predictive and Performance Goals

Rose & Associates LLP focuses on client needs, building solutions to a variety of problems. Our fit-for-purpose consulting includes:
Exploration Prospect Assessment
Play-Based Exploration
Shale Resource Assessment
Economic Modeling
Performance Tracking
E & P Process and Tool Audits
Expert Testimony
Who We Are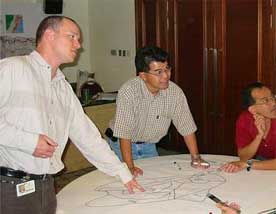 Rose & Associates LLP provides superior, integrated methods to manage oil and gas exploration and production programs through:
Hydrocarbon risk and resource estimation training courses
Oil and gas prospect, play, and portfolio consultation
Software solutions that provide insights for conventional and unconventional oil and gas plays, prospects, and portfolios
Our personal service and professional expertise enables our clients in the oil and gas exploration and production industry to generate more predictable portfolio results.
Rose & Associates LLP is a distinctive team of expert geologists, geophysicists, reservoir engineers, and petroleum engineers, all having global oil and gas experience. Rose & Associates' professionals have successful track records as explorers, developers, and risk and portfolio analysts. We utilize our expertise to understand and exceed customer expectations by communicating clearly across multiple disciplines, organizational levels, and cultures.
Who We Serve
Companies of all sizes, from Independents to Fortune 500 Oil and Gas Companies
National Oil Companies
Geoscientists, Engineers, Managers, and Decision Makers
Investment Bankers
Our software facilitates the assessment process, bringing consistency, efficiency, and calibration for more informed decision making and predictable portfolio management.