RoseRA Prospect Risk Assessment Software
RoseRA is the powerful and intuitive workflow tool you've been looking for. Build resource and chance assessments, from simple single zone, to complex opportunities with multiple fault blocks, stratigraphic levels, and wells. Combined with R&A's decades of training and consulting in applying the concepts encoded in the tool, RoseRA is the premiere industry tool for modeling prospect resources and assessing chance. RoseRA combines the power and functionality of our previous software, MMRA and MZM, into one cohesive tool.
Key advantages of RoseRA include:
Intuitive guided workflow ensures Day-1 operations
Customizable to implement corporate best practices and ensure consistency
'Cards' feature enables multiple zones to be assessed and aggregated in a single prospect analysis file
Key intermediate simulation displays and tables ensure inputs are reality checked
No third-party software required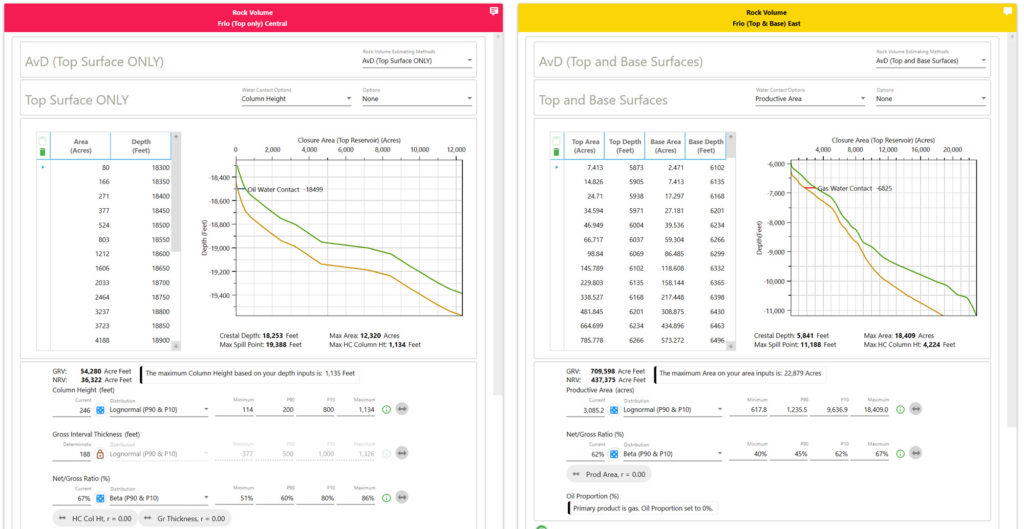 Multiple Zones and Assessment Methods in a Single Prospect Analysis
Multiple Zones
An unlimited number of zones can be modeled for a prospect and probabilistically aggregated in a single analysis. This provides flexibility, efficiency and a much more intuitive and logical workflow. This side-by-side display of the modeled zones facilitates quality control, reality checking, and comparisons of inputs, simulated rock volumes, and hydrocarbon yields. Using the Active/Inactive checkbox in the RoseRA Setup Define Zones card enables the user to easily activate any selection of zones and create a new prospect assessment.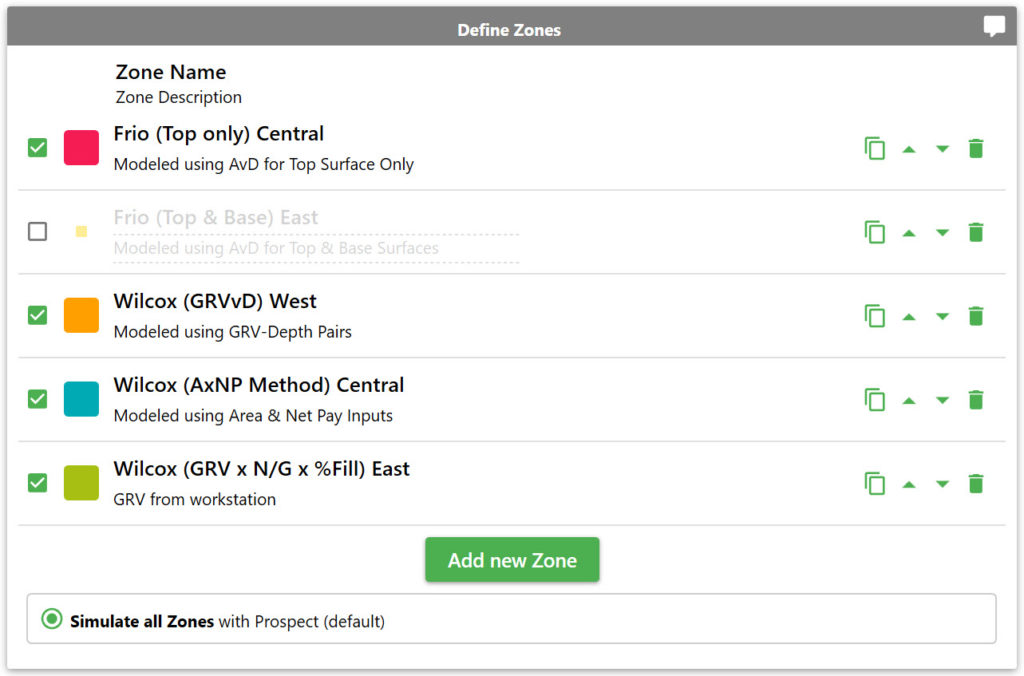 Unlimited Zones in a Single Analysis. Use Check to Activate Which Zones Will be Modeled.
Zones may also be associated with Stratigraphic Levels, Prospect Segments (fault blocks) and Wells such that, in addition to the total prospect resource, a probabilistic aggregation of the Stratigraphic Level, Fault Block, or Well, is optionally reported. The chart below shows two Stratigraphic Levels with 2 and 3 zones, respectively.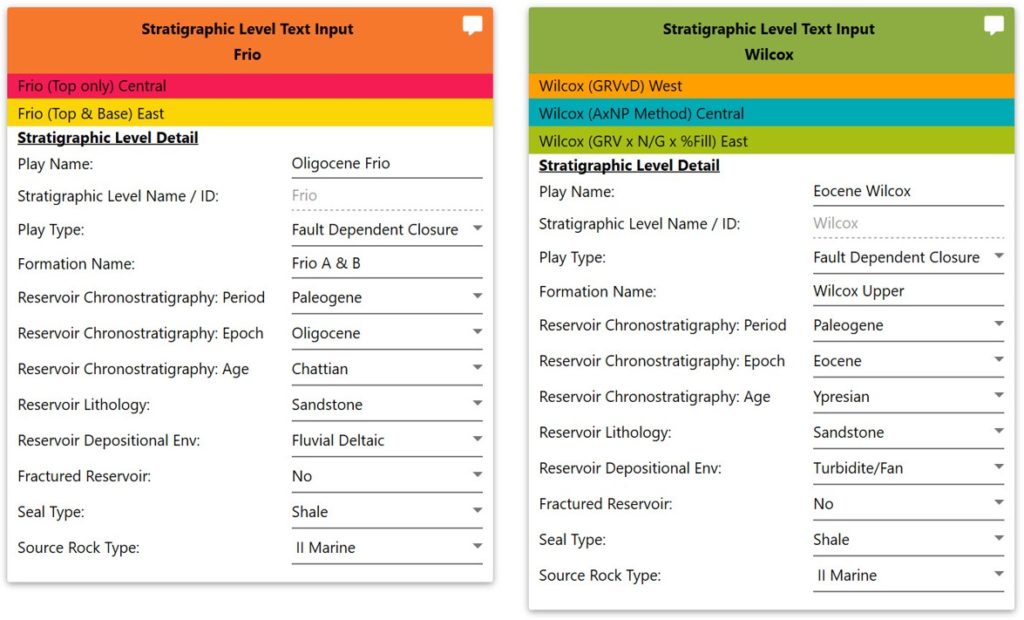 Calculate Aggregate Resources and Chance by Stratigraphic Unit, Fault Block or Well
MMRA Import
RoseRA can also import MMRA (versions 4 & 5) files into RoseRA with one click. All the MMRA data, including the text and numerical values, is captured seamlessly. Multiple MMRA files can be imported into the same RoseRA analysis, enabling multi-zone aggregation modeling. The video below demonstrates the import process.
Reality Checks
RoseRA provides instant feedback to users when inputting distributions, ensuring that the extreme ends (P99 and P01) are reality checked. Competing tools make this cumbersome, resulting in the user skipping this crucial step which can lead to unrealistic pre-drill estimates. As shown in the chart below, different distributions can be selected by specific parameters, and correlations can be modeled between different inputs. Multiple estimating methods for a single zone can be saved and directly compared for improved quality control (for example, building rock volumes using Area vs Depth and quickly comparing these to workstation-derived probabilistic rock volumes).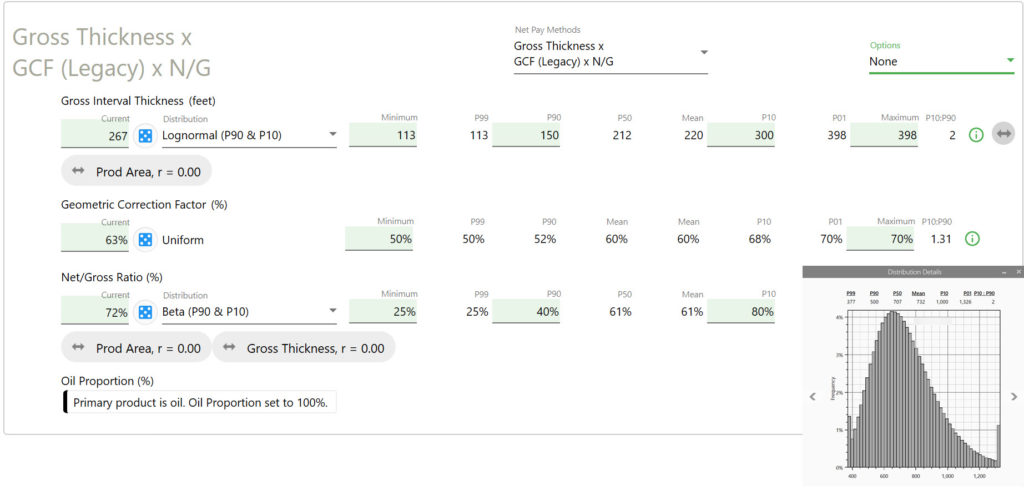 Select from company-specific distributions and inputs.
Comprehensive Outputs
RoseRA provides a comprehensive set of outputs including a dashboard of standard charts showing prospect assessment results, user defined charts, easy to read tabulated input and output distributions, full access to all the trial data using powerful filtering tools, and the ability to export all tables to external workbooks for use with data visualization/analytical tools.
Customizable Custom Output Charts by Aggregate, Zone, and Product Scenarios
Users can toggle individual zones on or off in a single analysis to allow for consideration of additional  analyses. This functionality provides a significant time savings and offers tremendous flexibility for modeling many assessment challenges such as lateral and vertical dependencies or uncertainty in fluid phase.
To enable Day-1 operation, and to be able to effectively communicate prospect evaluations, RoseRA embeds concepts taught in R&A's Risk Analysis, Prospect Evaluation and Exploration Economics course.
Ready to learn more?
Get in touch with LSi right away for more information about this software tool and to find out why RoseRA will become an essential element of your risk assessment projections. To see firsthand how easy it is to get sophisticated, reliable characterization results, request a trial evaluation. Contact Phil Conway at philconway@roseassoc.com for a demo or to trial RoseRA for yourself. We know you'll love it.
implement your company's best practices