Portfolio Essentials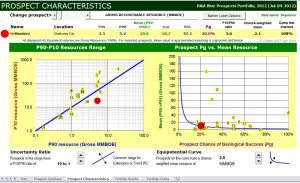 Utilizing the proven capabilities of our powerful, more complex Portfolio Risk Analysis (PortfolioRA) software application, we have distilled the crucial portfolio aggregation methods into Portfolio Essentials for a fraction of the price.  From an Excel platform, the analyst can enter prospect data either by hand, or import files from a companion product (Risk Essentials, MMRA or Multi-Zone Master), and perform a state-of-art portfolio characterization for budget and drilling program forecasts.
Prospect Database​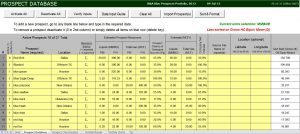 You have the option of hand entry for the salient data about your portfolio constituents, or importing the needed files from a Risk Essentials, MMRA or Multi-Zone Master evaluation of your prospects.  A data input guide provides the steps to proceed efficiently and effectively.  Note that from this page, the entries can be sorted by several key prospect metrics.
The prospect's Resource Distribution, Chance of Geologic Success, Commercial Threshold, and Company Working Interest Data are combined in a Monte Carlo simulation to determine the Chance of Portfolio Success, Geologic and Commercial Resources forecast to be discovered by the drilling program.
Sort the prospects by key metrics to build a better understanding of portfolio rankings.
Pre-Drill View for Prospect Bias​
Each prospect entry can be readily examined in the context of the other opportunities and a best practice determination of suggested prospect variance for various prospect types.  Thus, if a frontier wildcatter carries the reserves variance of an exploitation-type prospect, there may be an underlying bias to the resources estimation that can be pinpointed prior to capital allocation.
Portfolio Results
With a built-in VBA Monte Carlo simulator now readily available within Excel, all you need to select is the number of iterations to sample your prospects, the output units, and whether the simulation contains the prospect working or gross interest.  The results are presented in both tabulated and graphical format.
That's it!  An elegant, affordable way to probabilistically characterize your investment opportunities, from the most trusted name in E&P Risk Management.
Get in touch with LS or request a trial evaluation today to learn how Portfolio Essentials will become a key part of your resource estimate forecasting.