Multi-Zone Master (MZM) Software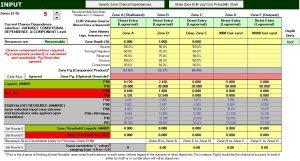 Multi-Zone Master (MZM) was designed for the savvy prospect generator facing the daunting challenge of how to combine resources and chance for multiple vertically-stacked zones. Add value through an objective analysis and properly communicate the complex characterization of the resource scope and probability of success for a prospect or field with the potential for multiple zones with a wide range of success case outcomes. Though MZM is supported and maintained, all new enhancements can be found in RoseRA software.
With an internal VBA Monte Carlo engine, MZM delivers both the aggregated prospect resource distribution for up to five zones and the probability of at least one successful zone considering the vagaries of geological dependencies that may occur between the zones. Apply correlations between zone resource volumes if appropriate.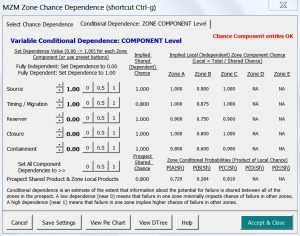 Simply record the resource distributions and their respective Pg and chance components values (or import the data from MMRA), quantify the chance dependency relationships, and run the fast, reliable simulation… it's that easy.
Optionally select the level of dependence between each of the zone's chance components to accurately model the likelihood of success or failure according to your geologic model.
The user controls the MZM simulation with selections describing extreme-end truncations to be applied to input resource distributions and/or the simulated resource output. Apply commercial fiscal threshold to an individual zone or to the entire prospect.
Simulation results are available in both graphical, tabular, and decision tree formats to facilitate understanding and subsequent communication to decision makers.
Results are compiled by iteration; so that the user knows which successful zone combinations contribute to and dominate the prospect aggregate resources for subsequent economic analyses.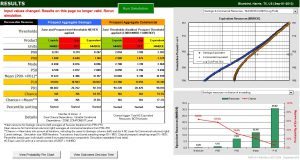 Save money on MZM when you purchase the Prospect Risk Analysis Suite. The suite includes our most popular software tools: Multi-Method Risk Analysis (MMRA), Multi-Zone Master (MZM), and Toolbox for one low license fee.
Get in touch with LSi right away for more information about this software tool and to find out why MZM will become an essential element of your risk assessment projections. To see firsthand how easy it is to get sophisticated, reliable characterization results, request a trial evaluation.
COMING ATTRACTIONS in 2019: The Prospect Risk Analysis Suite is being re-developed in C# with broad new functionality and an improved user interface. This new tool, called RoseRA, combines the power of MMRA, Multi-Zone Master and Toolbox into a single application. Contact R&A for a quick introduction to the new platform and get in on the ground floor with discounted pre-release pricing.