Appra
Developed using Rose & Associates' extensive expertise and industry knowledge in risk and resource assessment, Appra aims to deliver E&P leadership a more holistic approach to the consistent characterization of plays, prospects and portfolios.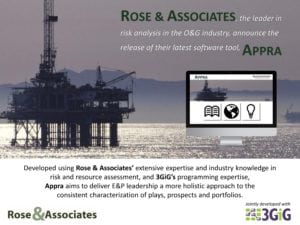 E&P companies recognize the need for consistency in characterizing the opportunities in their portfolio. However, there is often a gap between the drive for consistency and the ability to manage the underlying data, especially as opportunities mature from leads to prospects to drill ready. There is also often a large time gap between the decision to drill a well, and the post-drilling results and calibration process. Other gaps persist as discoveries move into appraisal and early development. Each of these gaps can cause a loss of knowledge and information about the opportunity, leading to rework, or even repeating mistakes in the assessment.
SOLUTION
Appra is a flexible software that provides E&P companies with a robust, secure infrastructure to manage their portfolio of exploration and appraisal plays, prospects, and projects from concept through development.
Consistent and comparable technical assessments are the foundation of good portfolio management. Appra is focused on incorporating technology into the regular workflow that codifies and preserves the work done by teams across all aspects of the E&P life cycle. Multiple versions of an assessment allow the progress of maturing a prospect or project to be captured and studied. The data set will track the process of an opportunity, generate internal metrics, and help build a learning organization.
Appra implements rigorous version control of risk and resource assessments as opportunities mature. Appra aligns to a company's decision-making process, providing visibility into the status and progression of their opportunities. Appra enables active management of the portfolio to meet the company's goals. In addition, Version 1 of the software provides out-of-the-box integration with Rose & Associates' Prospect Risk Analysis Suite software tools (MMRA/MZM). However, additional customization is available to connect other commercial or proprietary tools to Appra system.
VALUE & BENEFITS
The goal is to bring a more holistic approach to the effective characterization of plays, prospects and portfolios by:
Capturing, aggregating and storing data in a secure location
Implementing Quality Control and Assurance through a series of stage gates and the approval process workflow
Tracking and auditing of prospect estimate versions over time to better understand trends and patterns while allowing for effective comparison in post-drill analysis.
ABOUT 3GiG
3GiG is an integrated technology and services company for the Oil & Gas industry, delivering a Smart Process Application platform designed to help improve the effectiveness of a company's unstructured, un-automated, collaborative business activities and processes. 3GiG combines a unique mix of innovative, data-model driven technology along with highly knowledgeable, senior level E&P business-process consulting talent to rapidly deliver measurable solutions for E&P companies globally. The company is headquartered in Houston, Texas. For more information, visit 3-gig.com.
Schedule an Appra demo by emailing PhilConway@roseassoc.com or kandy.lukats@3-gig.com.